Welcome to UT Gun Rights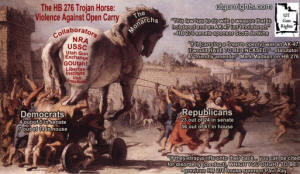 Last Year's Trojan Horse (HB 276)
& Lessons for Utah Gun Owners
(Update for 1/26/15): During last year's statutory session, UT Gun Rights warned that HB 276, "Violence Against Open Carry Gun Owners", would put open carry gun owners at significant risk. Despite objections detailed in the threat briefing, HB 276 passed and was celebrated by various organizations as a "win" for Utah gun owners.
Unfortunately, gun owners were betrayed by these organizations — again. The 2015 session starts today (January 26), and this article is designed to assist you in detecting future betrayals of your rights. To read it, click here.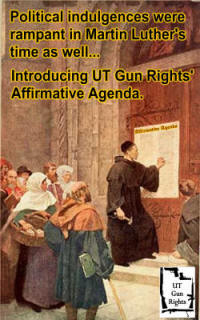 How Would an Ethical Government Operate?
See UT Gun Rights' Affirmative Agenda
(Alert for 1/13/15): Your right to keep and bear arms is better safeguarded when government officials and agents are tightly restrained by a framework of clear and ethical policies.
These policies must reinforce due process for those accused of criminal activity, punish those who abuse power, and foster an attitude of respect toward you.
Before such a government can exist, these policies must be defined and then promoted.
Toward that objective, UT Gun Rights presents its draft Affirmative Agenda for public input. To read it, click here.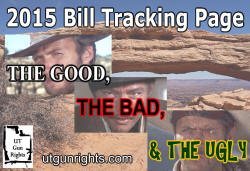 2015 Bill Tracking Page: The Good, The Bad, & The Ugly
(Alert for 1/6/15): The annual Utah statutory session begins on January 26 at the state capitol. Most bills remain secret to avoid public scrutiny, but will be revealed in the forthcoming weeks.
To keep up with bills affecting your right to keep and bear arms, click here.
Past Revelations...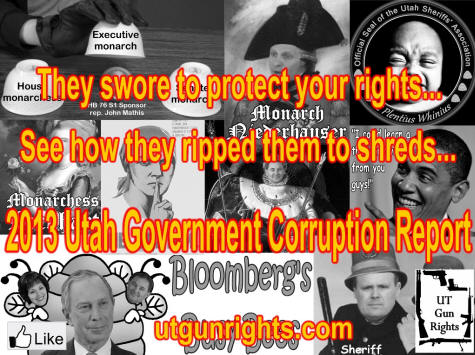 Click on picture to see report!
2013 Utah Government Corruption Report!
(Alert for 1/21/14): Learn how Utah politicians voted on critical gun rights bills in 2013. To read the full report, click here.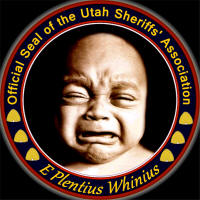 Sheriffs' Association President Whines at UT Gun Rights
(Alert for 1/2/14): Utah Sheriffs' Association president Jim Tracy emailed to contest UT Gun Rights' alert, "Why Did Utah's Sheriffs Oppose HB 76?"
Demonstrating classic politician behavior, Tracy complained, offered to hold a verbal conversation, and then declined to provide written specifics regarding his original objections.
To explore his lamentations, click here.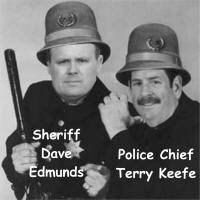 Why Did Utah's Sheriffs Oppose HB 76?
(Alert for 11/5/13): According to Terry Keefe, president of the Utah Chiefs of Police Association, the Utah Sheriffs' Association also voted to oppose HB 76 S1 (Carry "Unloaded" Firearms Concealed) in the secretive Law Enforcement Legislative Committee.
Thanks to another citizen's GRAMA request, we now reveal Keefe's email exchange. To uncover their betrayal, click here.

Utah Governor Gary Herbert Endorses Background Checks for BB Guns!
(Update for 7/16/13): Gun control zealot New York mayor Michael Bloomberg, co-founder of Mayors Against Illegal Guns, enjoys plenty of support amongst Utah's wanna-bee elites. Take governor Gary Herbert, for example, who recently endorsed background checks for BB guns. To read his outrageous quote and hear the audio, click here.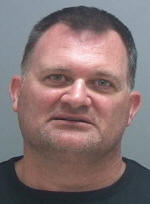 Courts of InJustice versus Clark Aposhian
(Update for 6/17/13): Here we expose how this Government subverts fair trials and the consequences of this subversion for Clark Aposhian. Specifically, Aposhian faces a system in which:
* unreasonable seizures occur,
* the right to Counsel is effectively denied,
* the right to a public trial by an impartial jury is obstructed, and
* deprivation of life, liberty, and property may occur without authentic due process of law.
To read this update, click here.
Utah Police Chiefs Overwhelmingly Support Gun Control
(Alert for 6/3/13): The saga of betrayal continues. Police chiefs throughout the state of Utah, many with overt or implied backing of their mayors and city councils, implored governor Herbert to veto HB 76 S1.
To learn more, click here.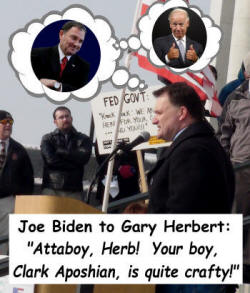 Why Would the USSC Chair Privately Lobby Against HB 76 S1?
(Alert for 5/21/13): A fundamental tactic of the anti-gun lobby is to manufacture false friends for you.
Always be apprehensive about those who tell you things you want to hear.
To read a revealing communication between USSC Chair, Clark Aposhian, and governor Herbert's Deputy for Community Outreach, Mike Mower, click here.
Sign up for Free E-mail Alerts & Updates!
To sign up for alerts and updates, click here. Also feel free to "Like" the UT Gun Rights Facebook page and share it with your friends at http://www.facebook.com/UtGunRights.
---
Copying Permission: Permission to reprint articles and material in whole or in part is hereby granted provided that UT Gun Rights is cited. Feel free to share this information with others.
Disclaimer: The information on this site is for educational purposes only. If there are errors, email info@utgunrights.com.
Comments or questions? Email info@utgunrights.com.
Copyright © 2015 UT Gun Rights.